mm-mm
omg i want those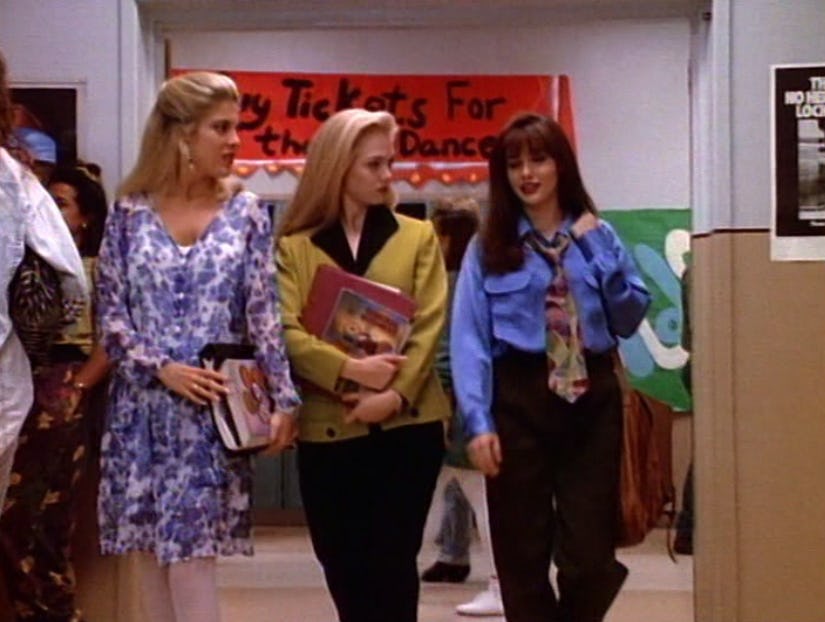 ed ora uno special su: STEVE'S FASHION
ma qua erano in montagna, spero
oh mio dio lo ricordo questo. era il fidanzato cattivo di Kelly
Questa è l'intervista al tipo che vive nella original casa dei walsh. No kidding. si chiama Jack e aquanto pare fa entrare gli sconosciuti in casa (i cui interni ARE-THE-SAME) e gli racconta dettagli. La casa è a Pasadena. quella di Dylan è là vicino
He stood and talked with us in the Walsh driveway for about 45 minutes, sharing all sorts of 90210 stories and behind the scenes info. For instance, he told us that on one occasion when they filmed at his house, producers cleared out all of his living room furniture and built a soundstage of Kelly's bedroom in the vacant room! LOL He also told us that some of the camping scenes from the Season 2 episode entitled "Camping Trip" were actually filmed in his backyard! And – my personal favorite story of the many Jack shared with us – one day he got home from work to find a message on his answering machine from a woman who said "Hi this is Emily Valentine and I wanted to let you know that I just got out of the asylum." LOL Jack even told us of a few other 90210 filming locations that he knew about. ? Now, this is where the story gets REALLY exciting. After talking with us for a bit in his driveway, Jack invited us into his backyard to take some photos.
After seeing us go a bit crazy over being in the actual 90210 backyard, Jack (wait, are you sitting down for this???) INVITED US TO SEE THE INSIDE OF THE HOUSE!!!! Yes, you read that right – HE INVITED US INSIDE THE HOUSE! THE 90210 HOUSE! BRANDON AND BRENDA'S HOUSE! WE GOT TO GO INSIDE!!!!!!!!!!!!!
(…)
While inside, Jack first showed us some scrapbooks he had made with photographs and articles from his house's filming days. The scrapbooks included all sorts of photographs and memorabilia from the 90210 days, including photos of his kids with the stars and the original contract he signed allowing the production company to use his home for filming. I couldn't help but smile as I read one clause in the contract which stated that a basketball hoop would be added to the exterior of Jack's garage. ? That basketball hoop is now gone as Jack is in the middle of remodeling his garage (say it ain't so!). There were actually two different basketball hoops used during the filming of 90210 and when the series ended, Jack got to keep both of them. Many years later he ended up giving both of those hoops away to 90210 fans who had stopped by his house to take pictures. 
Jesus Jack???
trovate tutto qua
Recentemente sono incappata in un vecchio episodio chiamato "Perfect mom" in cui Brenda per nessun motivo al mondo  pensa che la mamma di kelly, "alchol rage" Jackie Taylor, sia una mamma perfetta e ho notato a bordo piscina a casa taylor La mamma di Brody Jenner, Linda Thompson! non so neanche come ho fatto riconoscerla. Non so neanche perchè sochi è sta gente. All'epoca somigliava al marito (Adesso)
addo foto